I discovered a fabulous scrapbook challenge and tutorial website called Scrap Warriors Advanced Training!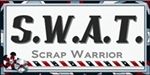 Besides challenges, they have fun Basic Training and Special Ops Training tutorials! Check them out here: http://swatscrapwarriorsadvancedtraining.blogspot.com/p/blog-page.html
For this month, Drill #3 was called Four Focused Fun, with a challenge to use four photos on a page layout.
I used more BoBunny Powder Mountain to create this fun layout Once There Was A Snowman...
Find four photos of your own and give this challenge a try at
S.W.A.T
.